Behind the Illustration Process of Karma and Koo with Emma Stuart
December 16th, 2021
Read all about the illustration process behind new title Karma and Koo with the super talented Emma Stuart!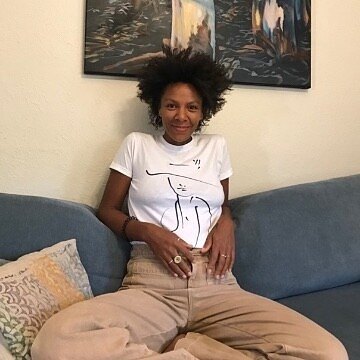 When Jaquie Lait contacted me earlier this year with her delightful story "Karma and Koo", I was instantly excited and inspired. This is going to be one of those books that comes to life with ease and flow ,and believe me this doesn't happen all that often!
Karma and Koo is a soulful tale set in a boutique timber children's store called Karma & Koo. The story is aimed at ages 0 – 5, and is about Karma, a boy who finds his 'Koo' – Koo meaning the "warm fuzzy feeling of a huge gentle hug, or that warm feeling when you're tucked in so snug." Saddened by his adventure ending without having found Koo, Karma learns that "Koo is not a who but a what, the Koo inside that most people forgot".
First step:
First step is little bit of brain storming. I ask the author for a brief, so I can get as far into their minds eye as much possible (without literally climbing inside their heads haha). Whats a brief? A brief, or storyboard is a visual 'map' of how the author sees the story come to life. Then I can work with their ideas and encorperate mine too. With books aimed at little ones (3- 7 years) I prefer to illustrate animals as the protagonist. I feel children still relate to animals as peers. They are gender neutral and raceless, making it easier for all children to empathise with, and When Jaquie and I were brainstorming characters I suggested penguins because of the Christmas theme. Jaquie got to work and sent me a picture perfect visual breif. This set me off on a great footing as I got a clear understanding of where the book should go.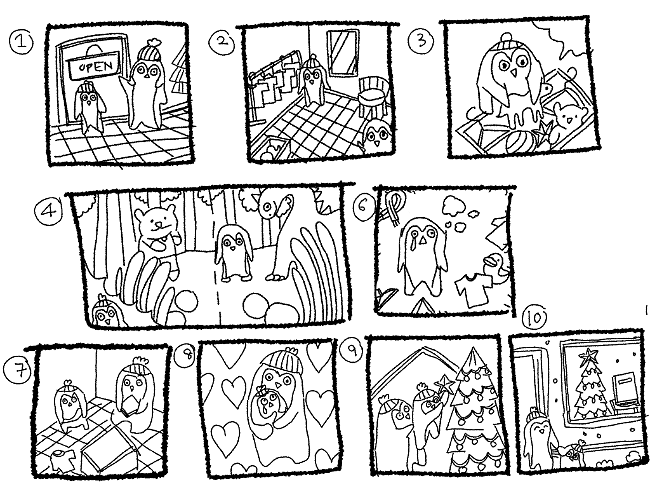 Roughs:
The next step is the rough phase. I sketch each page using a grey led pencil on rough water colour paper. Some illustrations are single page spreads, others double pages and others spots (free standing with no background). Its important to leave room for text, I always find this hard because its so fun filling the page with fun details! Once we've agreed in the roughs its all systems go to the fun stage... Colour art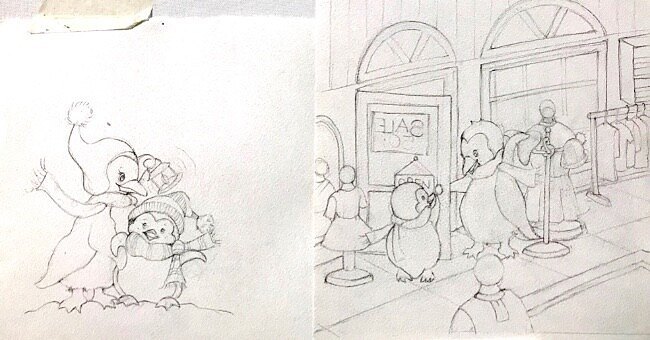 Colour artwork:
I work 100% by hand using watercolour, pencil and ink. I usually start with light blue hues to give shade and depth, and then ad colour.. I don't think I have any pictures of this, but heres a couple of finished internal illustrations from Karma and Koo, one spot and one double 3/4page spread.
Approval:
Once colour internals are done I scan them and email them over to the author. I've been illustrating for 22 years now and illustrated over 150 books, but I still get so nervous every time I send them! It's always such a relief when the author or publisher comes back with a positive response.
Front cover art:
I always try and leave this till the very last step. Often authors are happy ti reuse an internal spread, but other times they want a stand alone cover that encorperates the main these and characters. Jaquie wanted a stand alone, so we went through the same process – brain storm, storyboard, roughs colour. Once all artwork is scanned its sent off to the talented team at Little Steps to put it into book formatting and design ready to send off to the printers. The designers work closely with the author and illustrator to make sure everyone is happy with the design, font and layouts.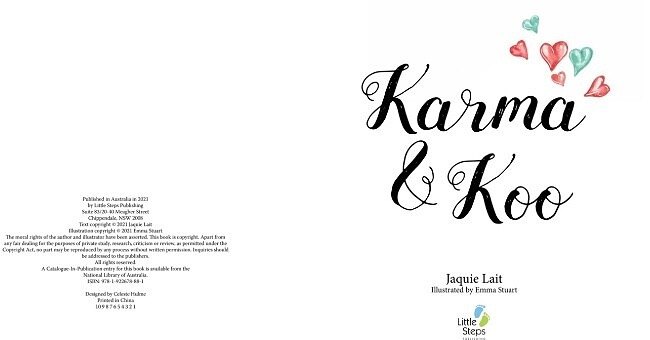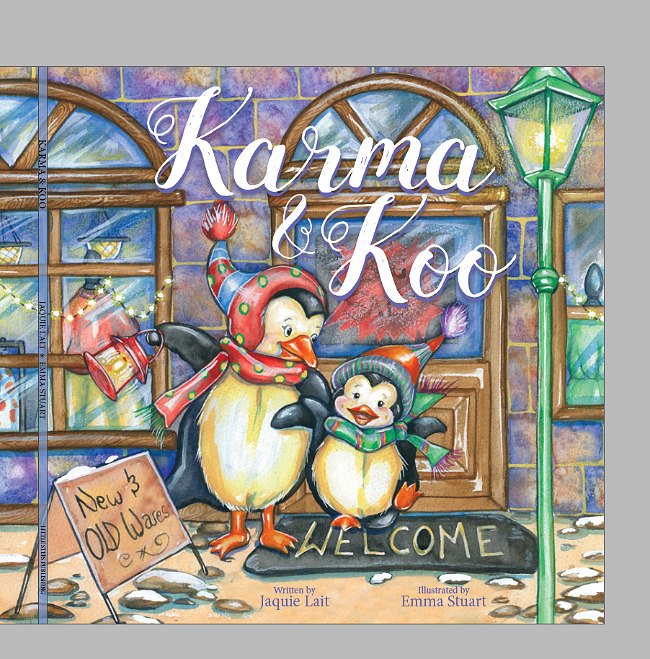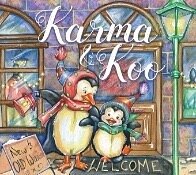 Karma and Koo
Karma, intrigued by his mother's store's name "Karma and Koo", sets out on an adventure to find out who Koo is. Karma soon learns that Koo is not a who but a what, and is in-fact something special that we all have inside.
Purchase Here
Tags:
behind the scenes
,
book
,
how to
,
illustrate
,
karma and koo
,
Illustration
---
Comments (1)
Faye pritchard
- December 22nd, 2021 2:46am
This story is beautiful as is the artwork .
Reply
Leave A Comment


Thank you for your comments,
they will appear shortly once approved.