Behind the Story and Illustrations of The Great Guinea Pig Adventures with Hollie Smith
February 23rd, 2022
Hear all about the creation of The Great Guinea Pig Adventures with creator, Hollie Smith!
I am Hollie; the author and illustrator of The Great Guinea Pig Adventures.

I have kept and loved many guinea pigs over the years, and I have always marvelled at their eagerness to see me when I get back from work in the evenings. In truth, this is simply because they are excited for their evening vegetables, but it always made me think 'what are you so excited to tell me about?!'. I used to have images in my head of my guinea pig following me to work and secretly helping me with my daily duties, or going off to some exciting place and returning just in time for dinner. The inspiration for the story came from this, and because I wanted to pay tribute to my beloved friends and muses.

First stages

I approached Little Steps with some rough images (see below) and a story that centred around the lifting of Lockdown (the one that was supposed to be June 2021) but through the eyes of my guinea pigs; Derek, Thelma and Louise. I had created the original images with my four year old nephew in mind, and had consulted him a few times. He was happy, as long as Dinosaurs featured somewhere.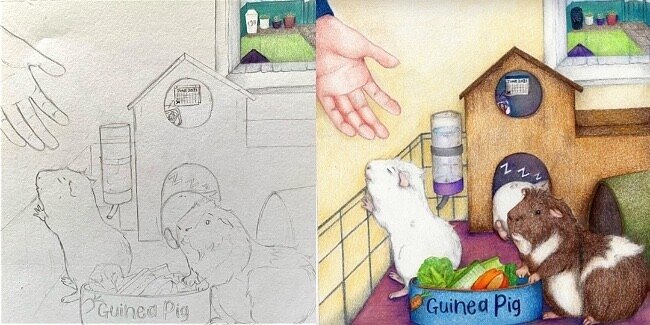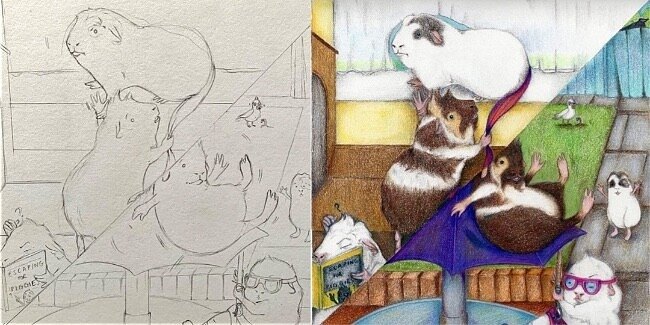 After reviewing the original rough images, I started finalising the manuscript with my partner, Ashley, and Tasha from Little Steps. Tasha really helped to create a sense of flow to the story, and use words that were better suited to a younger target audience. Once the text was finalised, I began work on the rough thumbnails, or storyboard. I started this by doing a series of very quick sketches of my guinea pigs in their enclosure, so that I could map their markings and distinguishing features.


Mapping markings and features

I initially found the storyboard stage to be overwhelming because I had so many ideas, but Verity (the designer) suggested using a mixture of vignettes and full bleed images. I loved this idea because it meant I could focus on one key area of the text with vignettes, like an emotion, whilst also allowing my creativity to go a bit mad in the full bleed images! 'The Pigmus' double spread is in fact a homage to my favourite band, The Rasmus, so it was only right I included lots of extra details that music fans (and parent readers!) would appreciate.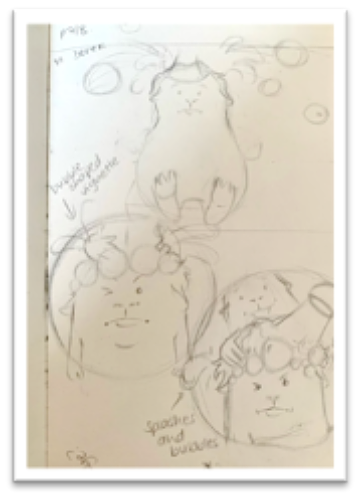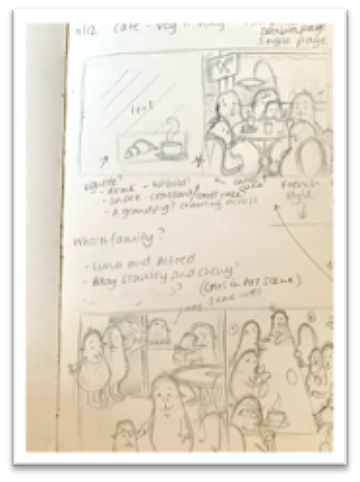 Sketchbook extracts exploring the scenes, and helping to finalise the storyboard.


Character Development

I have always drawn guinea pigs for fun, so it wasn't hard to get the basic shape right (it is an aubergine!). I also know my guinea pigs and their individual characters, so it was easy to picture their facial expressions in each scene. The challenge, however, was turning three four legged animals into two legged… well, humans! Verity and I discussed how in the home, the guinea pigs should remain in their typical form with four paws on the floor. When having their adventures they should be upright, but their guinea pig features should remain, and not be over humanised.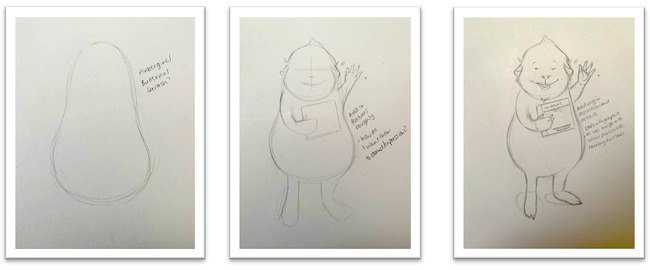 Step by step guide for turning the aubergine into an upright Guinea Pig!

Once the thumbnails had been approved, I could move onto the black and white draft images. It was very exciting to upscale my thumbnail drawings, and see my story start to take shape. The most exciting part, however, was adding colour.

Adding colour

Guinea pigs have an array of beautiful colours and markings, so it was a pleasure to bring those to life. I have always hand drawn with traditional techniques, and enjoy using Prismacolor pencils because of their versatility. Whilst watercolour paint or pencils would have given subtler qualities, I like the depth of colour that you can achieve with these pencils and the way in which they blend – both perfect qualities for a guinea pigs coat! Using pencil does take a lot of time, (and a lot of sharpening) but I was pleased with the final illustrations.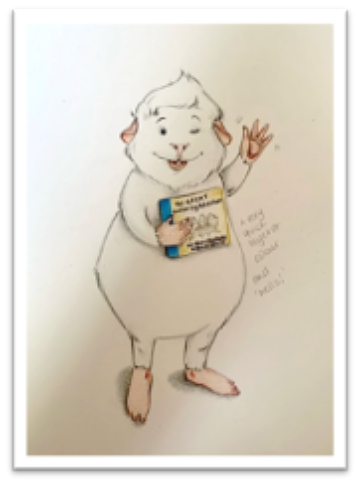 Adding layers of colour to our earlier aubergine!

The final images were scanned at 300dpi, and sent to Verity for her expertise. Since this was my first experience of illustrating a book and about a subject close to my heart, I was unsurprisingly nervous about the feedback. Feedback was good, however, and we agreed to add a few more spot vignettes, and finalised a front cover design.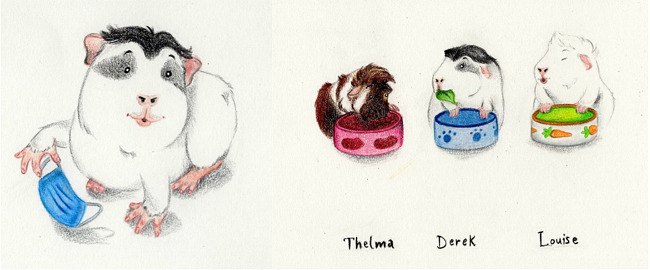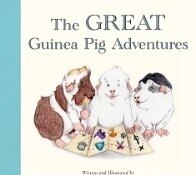 The Great Guinea Pig Adventures
Today is no ordinary day for the lockdown is lifted and it's time to do all of the things that we haven't been able to do.
Join these delightful guinea pigs on their wild adventures around town! Will they be able to get back home in time before Mom and Dad notice?
Purchase eBook Here
Tags:
animals
,
author
,
behind the scenes
,
book
,
children
,
children's book
,
guinea
,
guinea pig adventures
,
partner publishing
,
self published
,
writing
,
artist
,
guinea pig
,
Illustration
,
picture book
,
publishing
---
Comments (0)
No comments have been submitted yet.
Why not be the first to send us your thoughts
Leave A Comment


Thank you for your comments,
they will appear shortly once approved.