Feature Illustrator - Norvile Dovidonyte
June 21st, 2019
Feature Illustrator Norvile Dovidonyte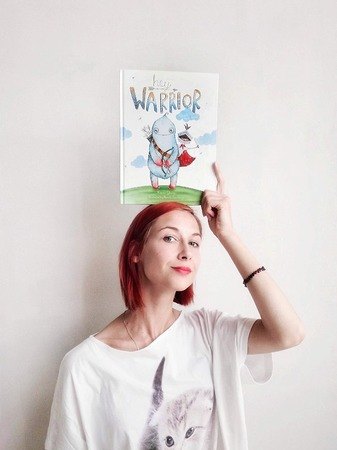 Meet Norvilė Dovidonytė, the illustrator of
Hey Warrior
and
Hey Awesome
, by Karen Young.
Norvile graduated art school in Lithuania and completed a bachelor degree of fine photography at the Vilnius Design College. Ever since she can remember, she has been fascinated by children's storybooks, especially creative illustrations. She lives with her photographer boyfriend who supports and inspires her every day.
We asked her some questions about her influences so you can get to know her better.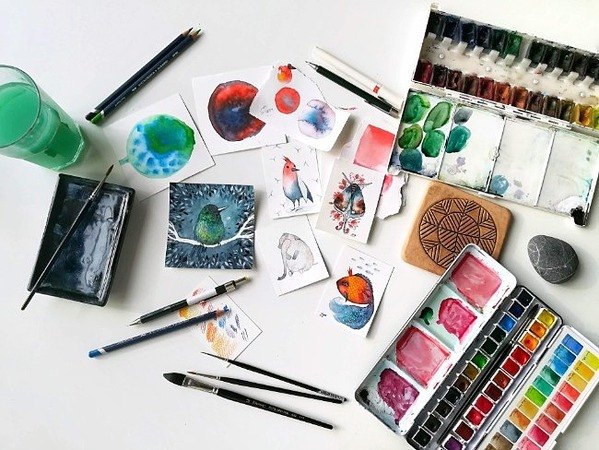 How did you get into illustration?

I don't feel I ever decided to become an illustrator, but a need to create something has been a part of my daily life ever since I can remember. Drawing was my biggest passion in my childhood and teenage years. I loved to draw various characters with different life stories, personalities and dreams. I was a big fan of children's books because of the inspiring art and imaginative stories, and I wished to create something exciting like that one day.

What was your favourite childhood book?

I remember as a child I really loved the book Keeko by Charles Thorson. It's a beautifully illustrated picture book about a little Indian boy who gets into all sorts of trouble while searching for eagle features for his headdress. I also really enjoyed The Brother's Grimm, Hans Christian Andersen fairytales and all kinds of magical stories with witches, princesses, dwarves and talking animals. of course, The Little Prince was one of my favourites too.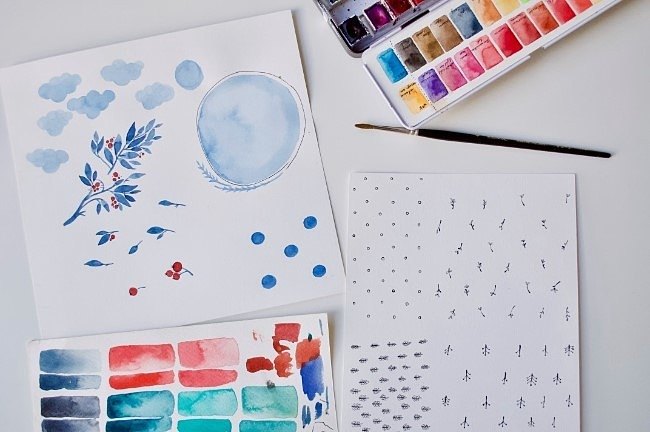 If you could give your younger self any advice, what would it be?

I'd tell myself: you are good enough, so stop comparing yourself to others and being so critical. There's a big, wide world outside of school and that some of your personal qualities will be really appreciated in the future. Self worth is not about skill, appearance, or grades and you don't have to impress others or to be 'perfect' all the time. You are just enough as you are. Also... draw more!

How did you come up with the character designs for Hey Warrior and Hey Awesome?

Before I start creating looks of characters I spend a lot of time thinking about the story and the moo of the book. While I'm creating character design, I try to explore as many possibilities as as I can. For example, make the eyes bigger, change the body shape, add some personal details and then develop until I feel good about the characters as a whole. Then I try to imagine their journey through the story. If I have a clear vision of that, then eureka!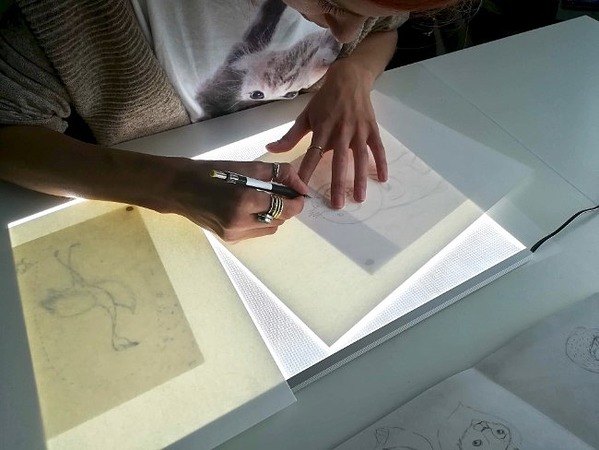 How has your background shaped your work?
Most of my creations are inspired by the beauty and harmony of nature. At the moment I live in the lovely town of Vilnius, but when I get tired of this I escape to my homeland where I spent most of my childhood. I'm so lucky to live surrounded by wildlife, where I can wander in the woodlands, meet wild animals walking freely and enjoy the calming atmosphere.
Who inspires you as an artist?
Oh there are so many wonderful artists and creators that are real inspirations to me. I'll only mention a few, but I have a very long list! Stasys Eidrigevičius, Lina Dūdaitė, Oliver Jeffers, Adolfo Serra, Golly Bard, Isabelle Arsenault, Júlia Sardà, Monica Barengo, Jon Klassen and many more...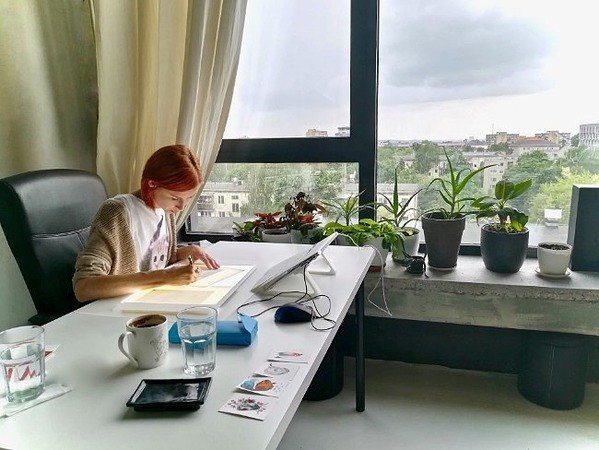 What is your working process?
It is quite difficult to describe my working process, as it usually depends on the project. I usually prefer to work intuitively because some ideas come quickly and I need to just convey them onto paper. Others require a bit more effort and time. I start with a little hint of the designs; often colour, form or mood. I end up with lots of sketches, and empty cups of coffee. Like many artists, I spend a lot of time planning things out. Often, I prefer to experiment with colour and composition in the beginning. Watercolours are a medium I enjoy working with. I love letting the colours just run and bleed all over the page, the colours always blend in fresh and surprising ways. After that, I use pen and ink over the top piece by piece, adding small details to finish the artwork.
When you're not working, what do you like doing?
When I'm not creating something I love to read children's books, drink coffee with my friends, make ceramic 'thingies', watch how my cat hunts invisible things, walk in the forest with my boyfriend and observe the starry night sky.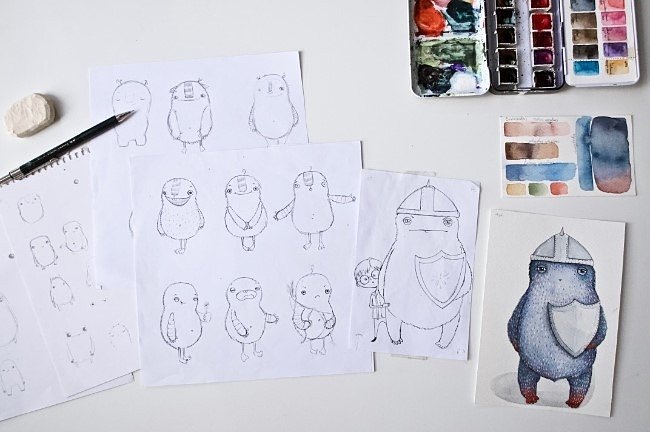 What's been your favourite feedback?

I appreciate all the kind responses I get about my work. One of the most memorable recent examples is from a Mum, who's daughter had anxiety. She told me she loved the illustrations and thanked me for my part in helping her child with her fears and embracing her inner warrior. Comments like this genuinely inspire and motivate me to create more.

Finally, tell us a fun fact people might not know about you.

Here's my top five!
When I was nineteen, I got a tattoo of a dragonfly which I designed myself.
I always skip the first page of a new notebook and start from the second. I hope to find the right mood for filling it with something beautiful and unique. Needless to say, it never happens.
I attended a primary music school and studied violin for four years.
I honestly can't stand kiwi fruit.
When I'm painting, I often listen to hard rock, heavy metal music.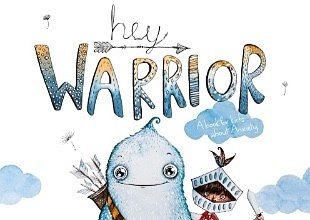 Hey Warrior
Kids can do amazing things with the right information. Understanding why anxiety feels the way it does and where the physical symptoms come from is a powerful step in turning anxiety around. Anxiety explained, kids empowered.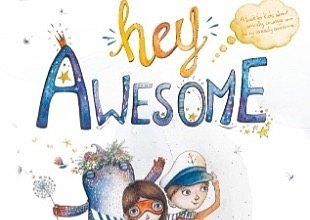 Hey Awesome
Author : Karen Young
Illustrator : Norvile Dovidonyte
Age : 5 - 10 years
If kids with anxiety could see their strengths, they would feel so much bigger than their anxiety. They would feel bigger than everything - as though a tiny, tip-toed stretch could have them touching the top of the world from where they are.
This book is a reminder for all kids that everything they need to be brave, strong and brilliant is already in them.
find out more
Tags:
anxiety
,
children
,
hey warrior
,
art
,
artist
,
Illustration
,
kids
,
Kids Lit Art
,
kidslit
,
mental health
,
picture book
,
psychology
,
publishing
,
self publishing
---
Comments (0)
No comments have been submitted yet.
Why not be the first to send us your thoughts
Leave A Comment


Thank you for your comments,
they will appear shortly once approved.