Inspiration Strikes with Maggie May Gordon
April 6th, 2020
How did my writing journey start? Well, actually I was surrounded by 1000 ewes when it happened... sitting in the ute outside our property on the western plains of NSW where they were grazing the roadside grass. I happened to have a note pad with me and I started writing poetry: 'The Cocky's Wife' was the first, and is still very popular with country folk. I often wonder if I had not left Sydney (for marriage) would I have discovered my hidden talent? After oodles of poems, I ventured into writing a musical set in the Australian gold rush... that remained in a cupboard for some years until I found the necessary composer. Years later Eureka The Musical saw its full production at Her Majesty's Melbourne and was nominated for Best Musical In the Robert Helpmann Awards for Australian Theatre 2005.


So everything starts with an idea, then nurturing, then collaborating, then hopefully published or produced! In my case, and many others I'm sure there was also the 'gift'. I am the only writer in my family and I did not have an extensive education, in fact after doing the Intermediate (3 years high school) I commenced office work and paying board before I turned 15. So it is quite amazing that I can write poetry, lyrics, short stories & musicals!

My children's books have a special place in my heart. Polly Profiterole's Little Town: Good Enough To Eat is the first to be published, and I love and thank Polly for that! What inspired me for this one? Living in the bush, my shopping has always been accomplished in a little country town (grocery, newsagent, bakery, chemist, coffee, craft and 3 pubs!) and one day I had the thought: how terrible if the shops closed down! What a nuisance to have to drive further than the 18km I did. Hence, the idea of Polly baking the shops for her little town came about. It was also inspired by the many creative cooks we have out here, too. What fun children will have baking & creating other shops, I hope.

I must say, the nicest people I know, are the ones I meet in my books... even Basil The Bully & What-To-Do (published soon in Australia). I think also, that children will love them and also learn from them. Polly, who had a great idea to save her town and teaming up with her handy husband Percy, achieved her goal. I hope my children's books light up the lives of many children, as they have mine.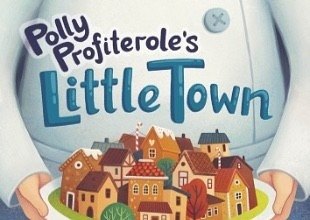 Polly Profiterole's
Little Town: Good Enough to Eat
How would you like to live in a town that had absolutely no shops, school, church or pub? Well, Polly Profiterole did, and she was quite quite fed up. One day she woke up with a great idea, she would bake a town and her husband Percy would build it!
find out more
Tags:
author
,
kidslit
,
picture book
,
publishing
,
self publishing
---
Comments (0)
No comments have been submitted yet.
Why not be the first to send us your thoughts
Leave A Comment


Thank you for your comments,
they will appear shortly once approved.