Meet Aimee Chan, Author of My Grandma is 100
July 20th, 2020
When did you decided you wanted to become an author, what prompted this?

I have wanted to be an author my whole life. I've always loved writing stories and I still have many of the books that I wrote as a child by hand and then typed up on an old fashioned typewriter. I suppose this would be called "juvenilia" now.

What was your favourite childhood book?

I really love books so I can't name just one favourite. I loved Enid Blyton, Roald Dahl and Beverley Cleary. The Secret Garden, Little Women, Playing Beatie Bow, The Silver Crown…there are just so many! I still have most of the original books that I read as a kid in my bookshelf today.

If you could tell your younger self any advice, what would it be?

Don't give up. You can and will achieve your dream of being a published author. For most of my career I have been a writer and had my work published in magazines and websites. But a small part of me always felt like I wasn't a "real writer" because I didn't have a published book. Just when I realised that there is nothing wrong with being a writer who doesn't have a book, my first book manuscript was accepted for publication. There is a life lesson in that.

How did you come up with the idea of your book?

I have always had a very close relationship with the real Grandma Edna and knew I wanted to record her story. But I was never quite sure how. One day I decided to make an audio recording about her. I thought I might make that into a podcast series. After a beautiful day of talking and hearing her stories, the really special audio recording I made disappeared. I was devastated. I thought about what my kids would have thought and felt if they could have heard Grandma Edna's stories. And that's how I came up with the idea of writing a children's book. (I still don't know what happened to that recording. It was never found again.)

How has your background and location shaped your work?

Reading and writing stories all my life has really helped me as a writer. I have a good understanding of the pace of sentences and how to use words clearly in a way that is easy to read. I think this was particularly important when it came to writing a children's book as the rhythm of the book is so important in children's literature. All that Beverley Clearly and Roald Dahl paid off.

Are there any people who you think have helped or inspired you to improve as a writer?

I still really love books of all different genres and types and when I find a good book that draws me in, I am always inspired. There are so many great writers out there and finding them always makes me excited and motivated to better myself and my writing.

What is your writing process?

As soon as I have an idea, I have to start writing it down. If I don't, it disappears. This means if something comes into my mind, I often have to get up in the middle of the night and spend several hours in front of the computer to catch the idea into words. And many times I've had to pull over the car and start typing into my phone to capture an idea. It's a bit like hearing a voice in your head. I hear the story – the tone, the voice, the kinds of words – and I have to start moulding and crafting immediately.

If you didn't write, what would you do instead?

Actually I cannot imagine my life without writing. Even before I was a writer, I was a lawyer, so there was still a lot of writing involved.

What's been your favourite feedback?

When people tell me that my book made them cry. That means my book made them feel something and you can't ask for more than that.

Tell us an interesting fact about yourself that people may not know!

I still love to read children's books and books for young people. I still browse the children's aisles in the library and bookshops. And I often read books I borrow or buy for my kids first before we read them together because I just can't wait. I have a particular interest in YA fiction. The latest Suzanne Collins book is next to my bed as we speak and I can't wait for the weekend to get started.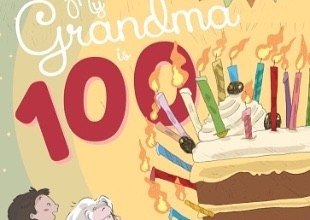 My Grandma is 100
My Grandma is very special to all of us, and she's about to have a very special day... but what do you buy someone who is turning 100?!
find out more
Tags:
author
,
children
,
kids
,
picture book
,
publishing
---
Comments (0)
No comments have been submitted yet.
Why not be the first to send us your thoughts
Leave A Comment


Thank you for your comments,
they will appear shortly once approved.