Nick Powell's Inspirations
October 14th, 2020

During the time that I ran my own TV production company, I launched a number of a series about people quitting the rat race for the pleasures of rural life both in the UK and abroad. The most notable of which were the River Cottage and No Going Back. I was struck by the simple joy that the contributors experienced in becoming closer to nature in every story we followed.
I continued to take an interest in stories about people whose yearning for a more simple, rewarding life often drove to them to try and recapture the pleasures we used to enjoy, but which had disappeared from many of our lives.

For me, the inspiring success of the 'rewilding' movement, where land is returned to how it was before the use of pesticides destroyed so much of our wildlife, is the perfect example of how turning back time can be better and richer for us, and for every living creature around us.
During the past couple of years in particular there has been a significant increase in the media coverage of the the successful reintroduction of species that were at risk of extinction like the otter, the water vole, a number of birds of prey, and many other animals.
Most of the coverage has been about large scale experiments. So I decided to write
Poppy Goes Wild
as a smaller, fun way of trying to engage younger audiences with the magic of nature on their doorstep, but also to show them that at their young age they too can make a difference to helping to return long lost wildlife of all kinds, and to safeguard it in the future.
In the early 2000s I moved out of London with my family. I was lucky enough to have enough space in the countryside to plant a small wild flower meadow and to put in a natural swimming pond. To my delight and to my children', dragonflies, newts, herons, ducks and a kestrel all turned up within the first year. So did grass snakes, which they weren't quite so sure about about slithering across the pond….
We were very lucky, but amazing results can be delivered in the smallest of gardens or even in a window box. I hope that children reading the book will be encouraged to sprinkle some wild flower seeds, to let a patch of their garden become overgrown or to install a pond, however small. Before they know it, the birds, bees, bugs and butterflies will come.

Recent research has shown how children benefit from becoming closer to nature. That reward can only be amplified if they are actively part of the process in encouraging nature to do its magic. That is a strong element of what I wanted to enshrine in Poppy's experience.
In writing the book, a significant motivation for me was that hopefully whole schools may become encouraged to get involved in 'rewilding' projects too, as Poppy's school did when clearing up the river in the book. After all, the best possible science lessons at primary school and beyond, are when you get out of the classroom and make things happen.

Another reason that I decided to take the approach I did in Poppy Goes Wild was that, as a former TV producer, I had become conscious of the decline in children's tv programmes about nature. A distinct change from the kinds of television programmes that were on when I was growing up. I was also particularly struck by a conversation I had with a former colleague, who told me that his 7 year old son didn't know what an otter was, when I was explaining the idea of the book.

Another significant motivation for me writing the book was to highlight both the joy but also the wisdom that can be imparted from the older generation to the young. As we see in Poppy Goes Wild, that wisdom goes both ways, but her grandad has an endless treasure trove of memories of how different his life was when he was growing up with an abundance of wildlife around him. Too often the details of past lives go unheeded and un-cherished.
In
Poppy Goes Wild
, through the memories of Grandad we get a glimpse of how dramatically the post war world changed the way our countryside looks and sounds. In just one person's lifetime, largely as a result of industrial processes and the use of pesticides in modern farming, much of our wildlife disappeared.
Hopefully,
Poppy Goes Wild
demonstrates that in far less one than person's lifetime, large parts of our land no longer need to be subject only to the pursuit of productivity. Instead they can be restored to the abundantly, rich wildlife habitats that they were in recent living memory.

I completed writing the book as lockdown led to what seemed like a tidal wave of pleasure in people noticing and relishing the wildlife all around them. Hopefully, Poppy Goes Wild harnesses that sense of joy and discovery. And in Grandad's case, it may be just be that the enjoyment is all the richer second time around.

- Nick Powell, Author.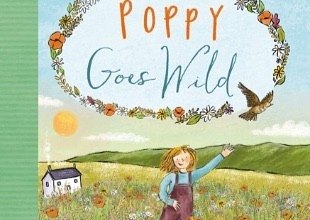 Poppy Goes Wild
Poppy is on a mission to save her grandad's farm by returning the countryside to a time when flower meadows grew wild and native animals flourished. Can Poppy succeed in helping nature to work its magic?
PREORDER FOR DECEMBER RELEASE
---
Comments (0)
No comments have been submitted yet.
Why not be the first to send us your thoughts
Leave A Comment


Thank you for your comments,
they will appear shortly once approved.