Ruth Taylor and Trim the Cat's Adventures
September 21st, 2020
The Cat and the Captain: Trim the Cat & Matthew Flinders is about the voyages of the navigator Matthew Flinders and his faithful cat, Trim. Flinders was the first man to circumnavigate Australia and gave it its name. In preparation for the book's release, debut children's author Ruth Taylor went on some trips of her own, to various parts of the UK that have links with Matthew Flinders, with her very own trusty Trim the cat.

Boston


I arrived at Kings Cross Station to a confusion of cameramen, lights and microphones. A group of thirty women were cheering.
'It's not even been published yet,' I said blushingly to the man directing passengers.
'Oh that,' he said. 'It's International Women's Day. They're railway women.'
Trim and I were not deterred. We waited patiently for our train, observing social distancing of course.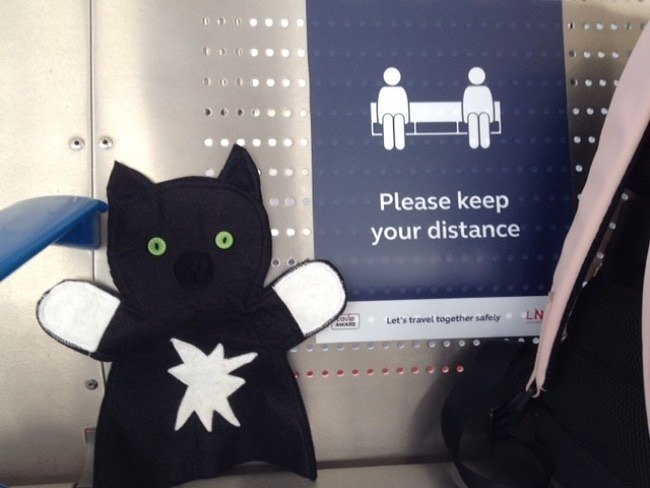 The elegant silver-haired man sitting opposite me on the train had a book in front of him about Aboriginal people. He played with his phone then dozed, the book unopened. Once awake I engaged with him. He was writing a PhD on the effects of European explorers on Indigenous people. What a coincidence! I talked about my soon to be published book and we learned things from each other we would have liked to have put in our publications. A stimulating start to my travels.
In Boston I buzzed around the bright town with its medieval heart and tidal river running down to the Wash, advertising my book to people I'd button-holed online. Could I do signings? What about a launch? Or was it lunch? Trim certainly enjoyed his lunch of egg sandwiches, and kindly let me share with him.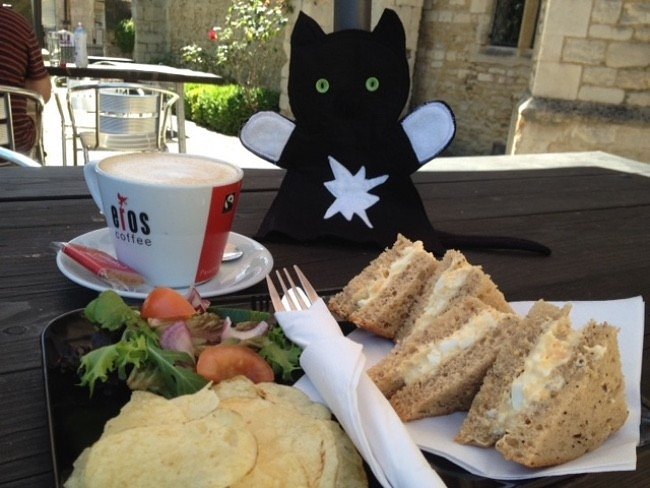 Back on the train at the end of the day, I tried to pen my 200-word biography for the press release. Others glanced at me scratching out line after line on scrap paper. Were they wondering if I'd lost my laptop, or my marbles? Trim, unconcerned, napped after a long, but fun, day out.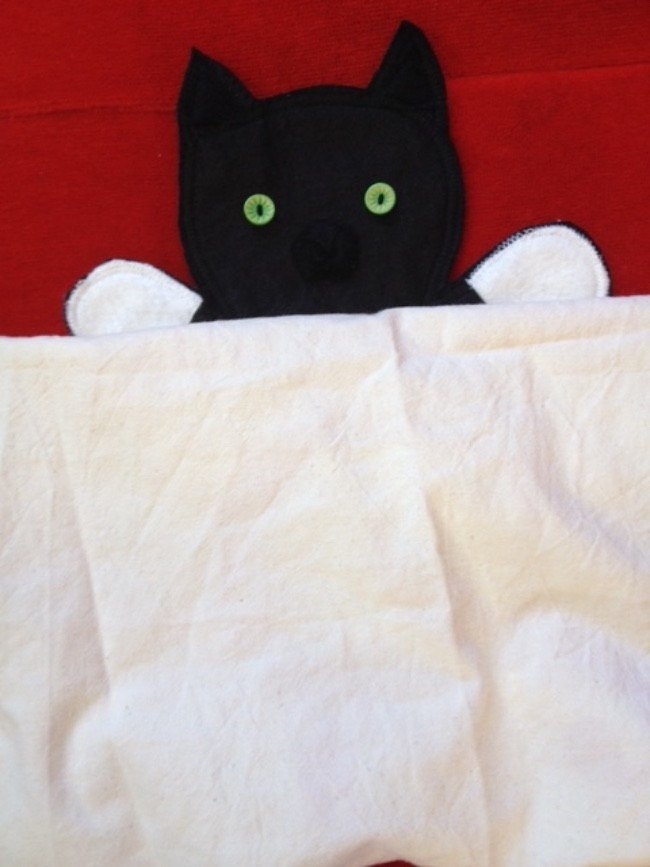 Peterborough
A non-fiction book for children could sound like one of the least popular genres in the world. However, if it's location-specific, local marketing is definitely made easier!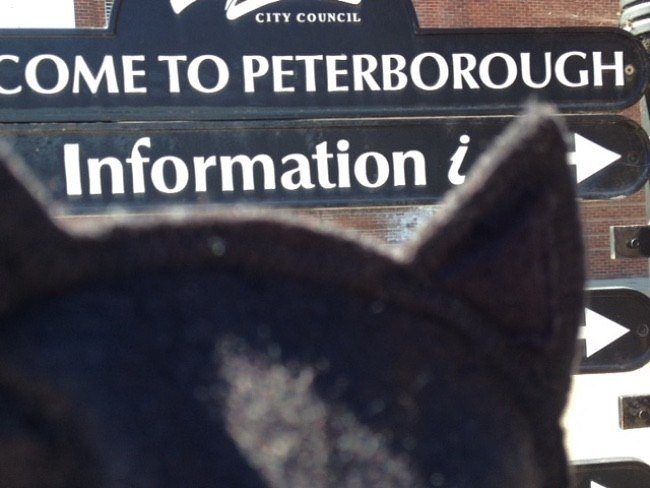 As Flinders was a Lincolnshire man, he is already celebrated there, but is relatively unknown in other parts of the UK. Still, as Peterborough, in Oxfordshire, is only 30 miles from Flinders' hometown of Donington, I decided to do a reccy. I packed Trim, some sandwiches, iced water and we set off, back on the train, again.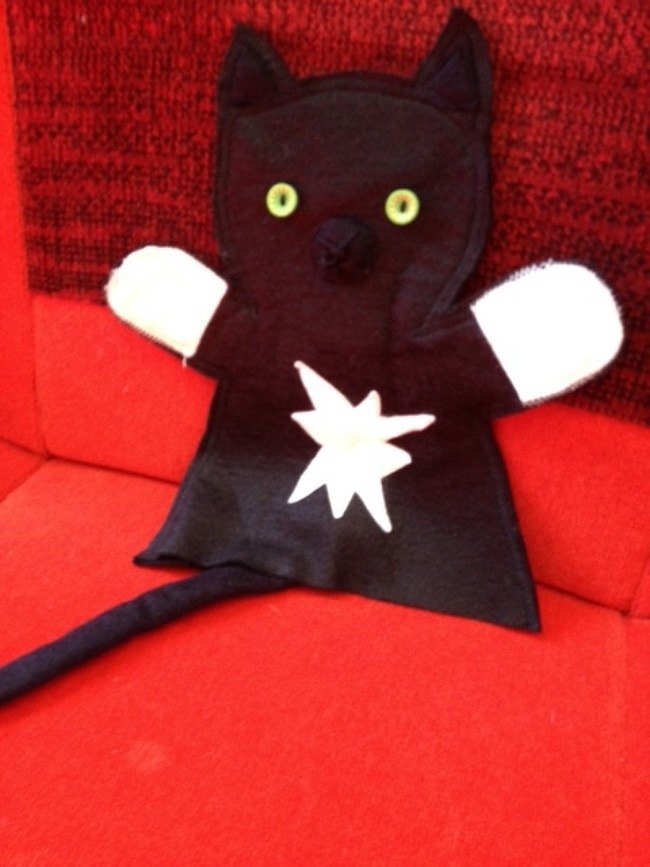 Through Peterborough Tourist Information Centre, I obtained, from the very helpful staff, details of independent book shops, libraries, museums, the local press office, the cathedral, and, of course, a map. I booked my tickets and planned my walking tour from the railway station. I had assumed no-one in Peterborough would have heard of Flinders (not entirely true!) and that the library, museum and local press office could well be closed (sadly true due to COVID-19). Trim was very upset to see the Museum shut.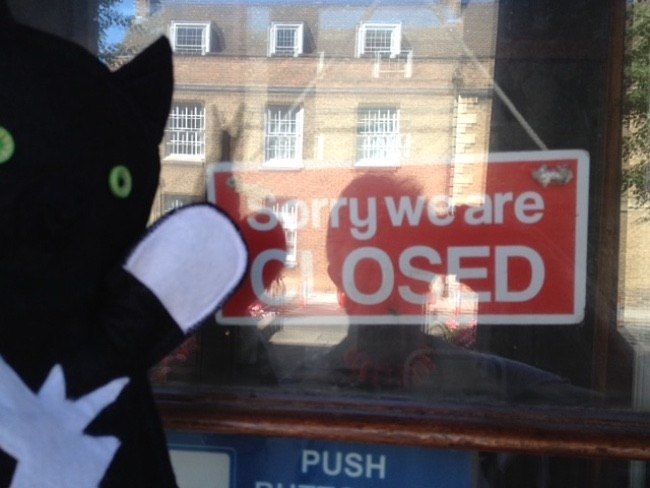 However, I dared not delay my journey until everything was open, because it would risk aborting the whole plan again due to another lockdown from the blue.
Trim decided to try the bell at the Peterborough Today offices, just in case they were in and wanted to interview us. The cobwebs on the bell told their story.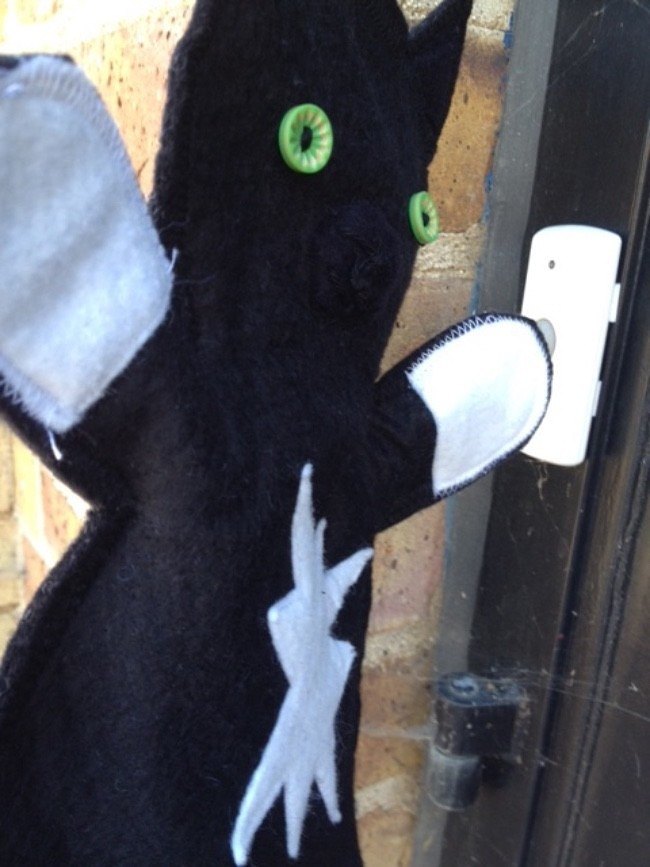 Trim relished everything about our day out despite the setbacks. Two lovely Waterstones' assistants cooed and fussed over Trim, who thoroughly enjoyed the attention. They decided that their children's book buyer would definitely enjoy the book because she also has a black cat; a great way to get contact details. The cat-lovers chorused 'Ahhh,' as Trim waved them goodbye. So maybe I'll get a sale there…
Close Encounters bookshop were equally thrilled to get a visit. Trim found what he thought was a tasty seafood treat for lunch, which turned out not to be edible, but certainly an interesting read!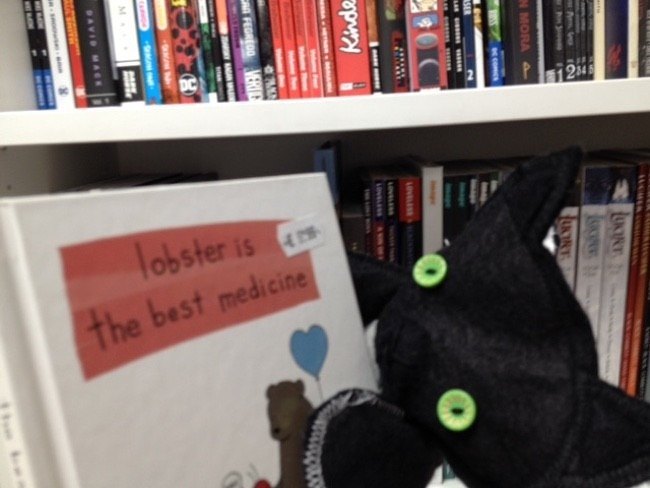 Next, we went to Peterborough Cathedral, where Trim thought he spotted a man engrossed in reading The Cat and the Captain.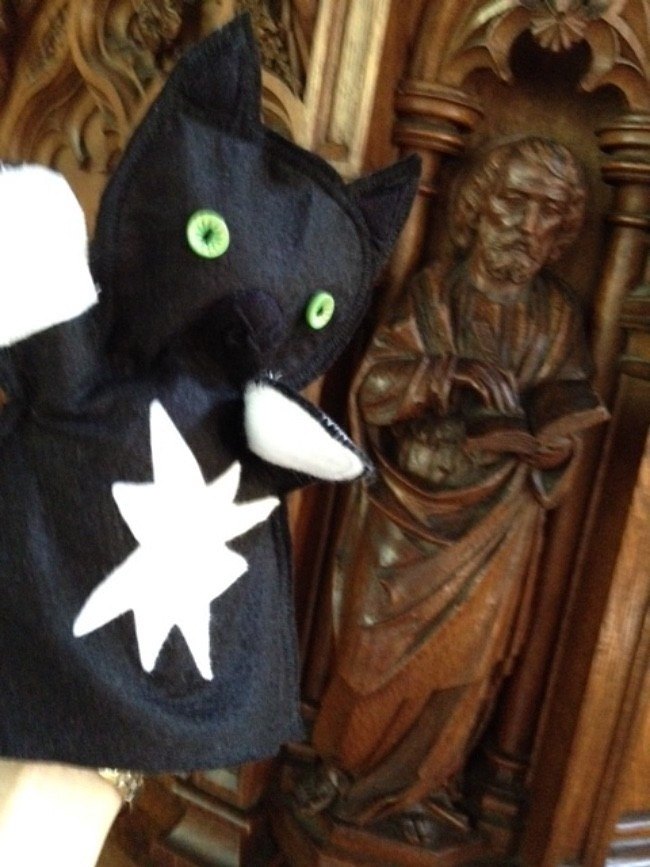 He then found a dragon - something he's not encountered on his adventures before! It was rather frightening.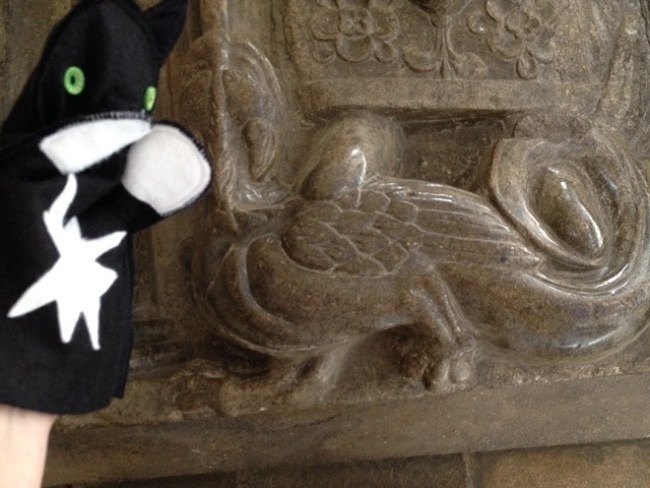 I was also told that the Cathedral Bookshop Education Officer would be interested in stocking the book, and I went away from the magnificent, ancient cathedral with their e-mail address clutched in my hand on a slip.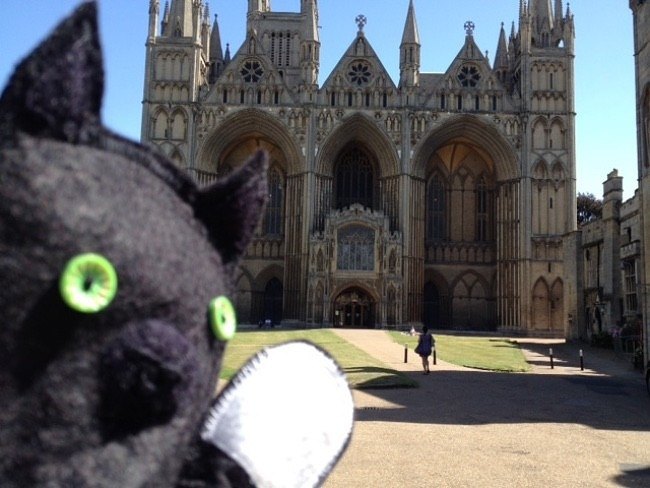 So long Peterborough. Next time it's Grantham. Back to Flinders' familiar home ground.

- Ruth & Trim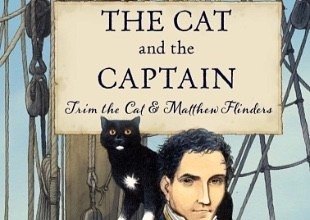 The Cat and the Captain: Trim the Cat & Matthew Flinders
Will Matthew Flinders find fame and fortune? This intrepid explorer circumnavigated and charted the coast of Australia between 1802 - 1803 accompanied by his mischievous but faithful cat, Trim. Faced with a leaking ship, stormy seas, sickness and an unknown land, Matthew and Trim overcome every obstacle until they are shipwrecked on the Great Barrier Reef. Their adventures don't stop there.
After surviving the shipwreck they sail to Mauritius where they are imprisoned by the French as spies. What will become of them?
find out more
---
Comments (0)
No comments have been submitted yet.
Why not be the first to send us your thoughts
Leave A Comment


Thank you for your comments,
they will appear shortly once approved.