Wildlife Vets International on Tala the Bengal Tiger
August 28th, 2021
Wildlife Vets International on Tala the Bengal Tiger


We hear from Wildlife Vets International's Executive Director, Olivia Walter, on all things tigers!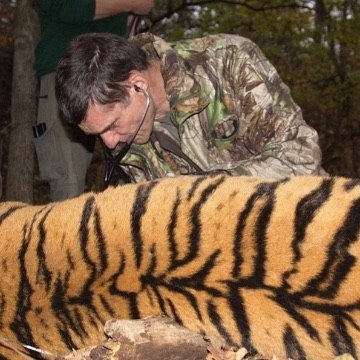 I was once lucky enough to have a job that meant living in the 'buffer zone' of Kanha National Park in India. It was my very first experience of conservation in action. At the time the park had one of the highest tiger populations in India, which meant that the tourist camp where I worked, as well as the villages around us, were actually part of the tigers' territories.

Although we never saw or heard tigers close by, as Veera does in this wonderful story, we did hear the resident leopards – all the time! I regularly walked out of my mud hut in the mornings to follow the tracks a leopard had made on the sandy path just hours before.

The first tiger I actually spotted was sitting high on the hillside above the camp, quietly watching the tourist vehicles leaving for the day. Over the following months I was privileged to see a good number of tigers and each sighting was simply magical. I was hooked forever on the conservation of these magnificent big cats and their habitats, and making sure local people can live alongside them safely.

A bit like Veera in this book, I set up a fundraising initiative – called simply 'Save the Tiger' - when I was a student at university. And although I haven't seen one in the wild since my days at the camp in India, tigers have always been part of my work throughout my career in conservation. Quite early on I was incredibly fortunate to meet a truly inspirational wildlife vet with a deep passion for tigers, Dr John Lewis. John was a brilliant big cat vet. He founded the charity Wildlife Vets International nearly twenty years ago because he saw how important it is that conservation projects get the right veterinary help.

When he sadly died unexpectedly last year, John was at the forefront of wildlife medicine and tiger health in particular. He played a key role in discovering that canine distemper virus – something domestic dogs are regularly vaccinated against – was actually killing tigers in Russia. Now it seems likely, according to anecdotal evidence, that the disease is affecting tigers around the globe. Distemper is known to affect the behaviour of tigers, making them less fearful of humans. It's hard not to wonder if this disease could be playing a role in perpetuating the legends of the man-eaters of the Sundarbans.

Dr Lewis helped Wild Team, a local Bangladeshi NGO working in the mangrove forests of the Sundarbans, deal with situations where tigers came into conflict with humans. He led workshops for the Village Response Teams and members of the Forestry Department, teaching them how to safely anaesthetise a tiger while surrounded by a crowd of upset and frightened people. He also helped Wild Team design a research programme to find out how much canine distemper was affecting domestic dogs in the villages on the edge of the mangrove jungles, since it can pass very easily from dogs into local wildlife.

In the words of the Wild Team programme leader, Adam Barlow;

"John's experience in working with tigers in challenging situations infused his training, which was both highly informed and grounded in reality. His skill in tailoring instructions so that they were suitable for the audience, and his ability to connect with people on a personal level, created a positive, practical, and motivating atmosphere for everyone involved."

Saving a top predator like the tiger needs people like Veera and John, who have a special connection with these amazing animals, but it also needs all of us.

Everyone can help save our wildlife, be it a bee or hedgehog in your garden, or supporting a project in a more exotic or distant location. You have to have the courage to keep believing that even the small things we do will make a difference. Funds raised at a 'Save the Tiger' event, or the donations of an author's royalties, as Beverley has so kindly done, and the encouragement that comes with these gestures, both enables and inspires the people working on the conservation frontline to keep doing what they are doing to make sure wildlife doesn't just survive but really thrives too.

The conservation of our planet is like a complicated puzzle, but each of us, and our children, can be part of the solution so that together we can save our beautiful wildlife for future generations.


Olivia Walter
Executive Director
Wildlife Vets International
Tala the Bengal Tiger
The second book in the series is a thrilling story about a girl and the endangered Bengal Tiger. What is the connection between little Veera and the mysterious tiger, Tala? This chance encounter will forever Veera's understanding of courage. Learn some terrific tiger facts, too!
Purchase Here
Tags:
bengal tiger
,
book
,
children's book
,
kidslit
,
publishing
,
tiger
---
Comments (0)
No comments have been submitted yet.
Why not be the first to send us your thoughts
Leave A Comment


Thank you for your comments,
they will appear shortly once approved.